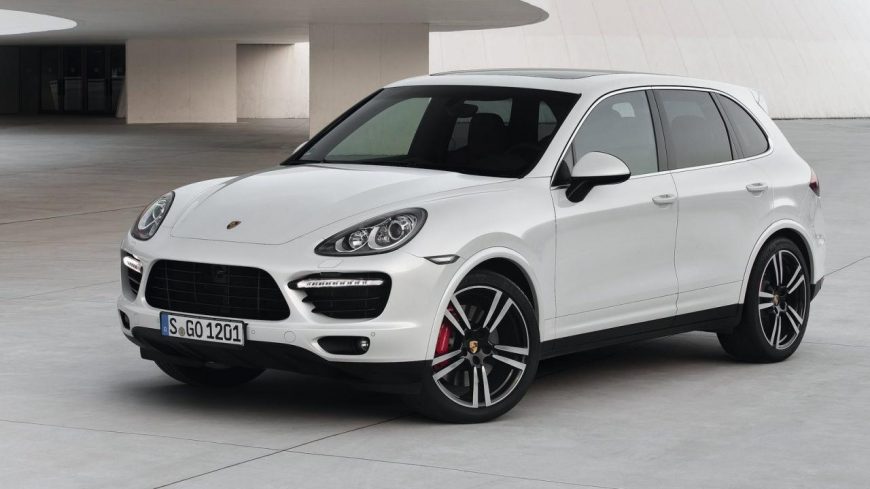 Ads1
Porsche have unleashed a new Cayenne beast known as the Turbo S. The new SUV not only has
as versatile off-road capabilities, high ride comfort and superior towing power but now has driving dynamics that can beat numerous sports cars on the road right now.
Porsche Cayenne Turbo S
To develop this amazing top of the range SUV, Porsche added 50hp more to the 4.8 litre twin turbo V8 engine. This brings the total output to 550hp and 750 Nm of torque. The new figures translate to faster acceleration and top speed. The new Cayenne Turbo S can accelerate from 0 to 100km/h in just 4.5 seconds. Top speed is an impressive 283km/h. This makes it the fastest SUV in the world. It will need 11 litres of fuel to cover a distance of 100km. This is similar to the Cayenne Turbo even though it has more power.
550hp 4.8 litre twin turbo V8 heart
The Porsche Cayenne Turbo S was systematically configured for maximum dynamic performance. Therefore, it incorporates all relevant control systems as standard equipment. From the Cayenne Turbo it takes the combination of an air suspension and active PASM damping control. Then there is Porsche Dynamic Chassis Control (PDCC), which reduces the roll angle in curves to practically zero, improving agility and comfort equally.
Porsche Cayenne Turbo
Porsche Torque Vectoring Plus (PTV Plus), which is also standard, operates with torque vectoring at the rear wheels together with an electronically controlled rear differential lock, which improves traction and therefore offers more agility in every driving situation. The new Cayenne Turbo S is also equipped with the Sport Chrono package as standard.
Ads2
Rear of the Cayenne Turbo with a large rear spoiler
To differentiate it from the Cayenne Turbo its exterior surfaces such as the air inlet screens, headlight housings and mirror parts are painted in high-gloss black. The standard 21-inch 911 Turbo II wheels, coloured Porsche badges, have been exclusively redesigned for the Cayenne Turbo S. Their inside surfaces are also painted in high-gloss black.
Posh black/carrera red interior
Inside Porsche designers have created a bi-colour leather packages with new colours and colour patterns. These interior features are available in either black/carrera red or black/luxor beige colour combinations. The bi-colour leather packages that are reserved for the new top of the range Cayenne Turbo model are now enhanced further by adding decorative seams in the contrasting colours of carrera red and luxor beige. A Carbon interior package which not complements the leather interior features but also helps to highlights the sophistication of vehicle and materials is also available.
Rear of the Turbo S
The new Porsche Cayenne Turbo S is priced at €151,702 (Kshs 24 million plus taxes). The Cayenne Turbo S not only proves that SUV can be fast but also brings out Porsche's ambition of making practical but fast sports machines.
Ads3